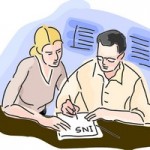 Long-term care isn't something we tend to think about before the need arises. Some assume that they won't need it for one reason or another. Others just don't want to consider the possibility that they might. But according to research by Conning and Company, 60% of those who reach age 65 will eventually need long-term care.
A growing number of people are purchasing long-term care insurance to cover their needs as they age. Still, these people are in the minority. If you're on the fence, here's a list of ten important benefits of long-term care insurance for your consideration.
1. Long-term care insurance can help protect your assets. A stay in a nursing home is one of the most frequent reasons that the elderly lose their homes and other property. By having long-term care insurance, you can reduce your chances of having these things go up for sale instead of being there for your heirs.
2. A good policy will pay for more than just nursing home stays. More and more policies are now covering assisted living, home care and respite care expenses. So even if you don't want to end up in a nursing home, long-term care insurance can be beneficial.
3. Long-term care insurance gives you more choices when it comes to long-term care. If you rely on Medicare or Medicaid, your options will be severely limited. You may not even be covered depending on your situation. With long-term care insurance, you can choose your facility or caregiver.
4. Providing for long-term care eases the burden on your family. You won't have to worry about your spouse or children endangering their health or disrupting their lives to provide care for you around the clock.
5. You may be eligible for tax deductions if you purchase long-term care insurance. Those who itemize deductions may deduct premiums that exceed 7 ½ percent of their adjusted gross income.
6. If you receive benefits from your insurance, they generally are not considered taxable income. Currently, the main exception to this rule is that policies that pay a certain amount per day are taxed if the exceed the maximum allowable amount. This limit is adjusted periodically for inflation.
7. You can adjust your policy to fit with your budget and needs. You can choose the maximum number of years for which care will be covered. Many insurance companies also offer inflation protection for an additional fee.
8. You don't have to pay premiums from a young age. Purchasing a policy at age 50 will give you a reasonable rate. After age 50, however, premiums rise considerably for new policyholders.
9. Insurance companies generally offer lower rates for couples who purchase a policy together. Check with your insurance company to see if they offer such a discount.
10. Long-term care policies are offered through some employers. These policies usually come with lower rates than you would pay for an individual policy.
When it comes to insurance, there are good policies and bad policies. Long-term care insurance is certainly no exception to this rule. It's important to do your research and find a policy that provides good coverage. Doing so will help you rest assured that your long-term care needs will be met when the time comes.
Tags: insurance advice, Long Term Care, long-term care