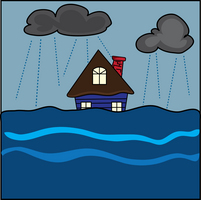 We've seen a number of destructive weather events happen in different parts of the country over the past few years – hurricanes, flooding due to rivers overflowing their banks, and drought-like weather leading to forest fires and grass fires.
The damage that these kinds of natural disasters and weather events can do to homes and other properties is of often devastating. Flooding and wildfires in particular can destroy not only one person's home, but entire neighborhoods or towns as well.
It would be easy to assume that all types of destruction that might happen to your house are covered by your homeowners insurance policy. Unfortunately, this isn't always the case, as many homeowners have found out after they are affected by a disaster or catastrophe. Here is some advice to ensure your homeowners insurance covers you for catastrophic events.
Scope of Coverage.
One of the big lessons that many gulf-area homeowners learned the hard way is that not all types of damage from the same weather event are treated the same by a homeowners insurance policy. Many homeowners had a policy that explicitly covered hurricane damage, but it turns out that their homes were not damaged by the winds of the hurricane themselves (which is what "hurricane" insurance covers), but the rising water levels (the so-called "storm surge") that were a result of the hurricane. This flood damage was not included under the hurricane coverage, and would have required the homeowners to purchase a separate rider to cover the flooding – many did not do so.
In addition, as with all homeowners insurance policies, make sure that any high-value items that aren't covered by your standard policy are covered by a separate rider. Common items include expensive electronics equipment, jewelry, artwork and collectibles.
Deductibles
Because catastrophic weather events often result in the complete loss of one's home, it is important to make sure that your policy covers you to the extent that you expect. It's not uncommon for policies to have a significant deductibles for damages that could greatly reduce the effectiveness of your coverage, precisely when you need that coverage the most.
Ultimately, your budget will be a big factor in determining how much coverage you can purchase. As a general rule, the higher deductible, the lower the premium for a given amount of coverage.
Renters Insurance
Even if you're just renting your home or apartment, consider purchasing yourself a renter's insurance policy. These policies usually cover the full replacement value of all of your possessions, and are available for whatever period of time you require (so that you can make them for the same term as your lease). People renting their residences can be affected by a natural catastrophe just as much as homeowners.
Tags: catastrophic coverage, Homeowners, insurance advice