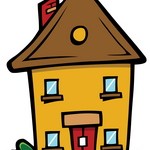 Your home is likely to be the most valuable thing you'll ever own in your life. As such, it's important to make sure that particular aspect of your finances is protected. You can take steps such as adding a home security system and taking other preventative measures, but at the end of the day you'll still need to buy insurance.
Homeowner's insurance is so important that when you obtain a mortgage from your bank or credit union, a condition of the mortgage will be that you obtain adequate insurance coverage. The amount of required coverage will initially be based upon the size of your mortgage, but there are some situations where you may want to change either the amount of coverage, or your insurance provider.
Here is some insurance advice on reasons you may want to change your homeowners insurance policy.
Moving to a New Home. Many homeowners downsize once they retire, or once their children move away. When you move to a new home you'll obviously be shopping for a new homeowner's policy. But it's important to take that time and an opportunity to reexamine whatever assumptions you may have made about insuring your previous home, and confirm that they make sense for your new home. You may have purchased certain additional riders for your prior home that are no longer applicable to your new one – things like additional flood insurance if your old home was in a flood plain but your new home isn't.
You Renovate Your Home. When you own your home for many years, there's a good chance that at some point you'll do something to renovate or improve it. Often times this means redoing the kitchen or one of the bathrooms, but it could also involve finishing the basement, landscaping, or perhaps adding a storage shed to your property. When you do this, the value of your home increases (although perhaps not immediately by as much as you spent to make the improvement), so you'll need to change your coverage.
Any Other Significant Change in Home Value. Your homeowner's insurance policy includes various coverages that are keyed to specific amounts. As the value of your home increases over time, a policy that you purchased years or decades earlier may provide a coverage amount that's far below what your home is worth. You should make a habit of taking a few minutes to review the coverage amount of your policy each year to make sure it matches the value of your home.
Multi-Policy Discounts. An increasing number of insurance providers are offering discounts when individuals purchase multiple types of coverage. For example, your homeowner's insurance provider may also offer automobile coverage, and offer you discounted rates if you purchase both policies from them. If not, then you may want to investigate whether to switch your policy to a new carrier.
In any event, even when you pay off your mortgage and are no longer obligated to maintain hazard insurance on your home, you're almost certainly going to want to do so. Your home provides you with a significant degree of financial security – as well as the peace of mind of knowing you have a place to live – so you will want to make sure it's always protected.
Tags: change insurance, homeowner insurance, insurance advice