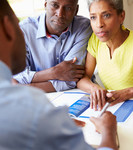 Healthcare in general, and health insurance in particular, are certainly more complicated today than they were a generation or two ago. Making sure that you and your family are adequately covered is no longer simply a matter choosing one of the three or four plans offered by your employer. Today many employers choose not to offer coverage to their employees, but at the same time we have more choices through the various government Health Insurance Marketplaces.
But getting this type of coverage is subject to an open enrollment period whereby, in the absence of special circumstances, you must enroll for coverage within a particular time period. If you fail to do so then you'll have to wait for the next open enrollment period.
Health Insurance Marketplace Basics. On November 1, 2015, the open enrollment period on the Health Insurance Marketplace began. November 1 is the first day that eligible individuals may enroll in a plan that's offered through the Marketplace, and new enrollees can have their coverage begin as early as January 1, 2016. In order to have coverage begin on January 1, 2016, the last date for open enrollment period is December 15, 2015.
If you open enroll between January 1, 2016 and January 15, 2016, then your new coverage will take effect on February 1, 2016. The absolute last date of the open enrollment period is January 31, 2016. If you choose to enroll in a new plan or change your coverage between January 16 and January 31 of 2016, your new coverage will take effect on March 1, 2016.
The Special Enrollment Period. Individuals who aren't able to enroll or make coverage changes during the open enrollment period can still do so during a special enrollment period. These special enrollment periods run for 60 days, and begin on the date of certain significant life events that result in a change in family status. These include getting married, the birth of a child, or losing your prior health coverage.
The Consequences of Missing Open Enrollment. If you aren't covered by a health insurance policy in 2016, then you'll face a penalty on your next federal income tax return. This penalty is the higher of (a) 2.5% of your income (subject to a cap that's equal to the average national premium for a certain level of coverage), or (b) $695 per person, plus half that amount for every child in the taxpayer's family under the age of 18 (subject to a maximum per family penalty of $2,085).
Perhaps most importantly, these parameters are subject to change in future years. Health care costs and health insurance coverage have become politically volatile issues, and if you choose to obtain your insurance through an exchange then you need to keep yourself up to date on all the relevant terms and deadlines.
Tags: healthcare insurance, insurance advice, open enrollment