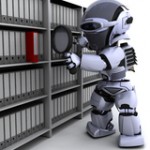 One important cornerstone of managing your personal financial life is good organization. If you don't have a good understanding of your current financial situation then it will be difficult to know how to go about improving it, or to make sure that you're doing everything you can to achieve your financial goals.
But having an organizational plan and structure in place doesn't only apply to your savings, investment and financial accounts. It's also essential that you have your insurance information organized as well.
Here is some insurance advice and tips on ways you can organize and store your key insurance documents.
Identify All Insurance Coverage. While it might sound obvious, the first step is to identify every insurance coverage you have for yourself, your home and your belongings. For example, some employers automatically provide a measure of life insurance to their employees. Make sure you have documentation for all your insurance coverage in one place.
Find a Safe Place. Because your insurance documents are so important, you need to make sure they're safe and readily accessible in the event you need to make a claim. If something happens to your home, for example, you want to make sure you can quickly begin the claims process with a minimum of stress and hassle. Come up with a safe place to store all of your insurance documents – this might be a small fireproof safe or box within your home, or perhaps a safe deposit box in the bank.
Only Keep Relevant Documents. If you've had different insurance carriers over the years, then there's a good chance you may still have outdated policy documents in your files. In order to make the process of managing your insurance documents simpler, periodically review your files and discard (using a cross-cut shredder if possible) any outdated materials.
Tell Someone Where These Documents Are. If you ever become incapacitated, or you otherwise need for your spouse or other family member to file an insurance claim on your behalf, they're going to need to know what coverage you have. Make sure that someone you trust knows exactly where they can find all of your insurance coverage documents. If you keep these documents in a bank safe deposit box, then make sure they'll have access to that box if necessary.
Make Copies of Insurance Cards. Don't forget that your insurance documents include more than just your policies, contracts and terms and conditions documents. The insurance cards you carry in your purse or wallet are also important. You should make copies of a front and back of each and every insurance card you carry; this will likely include your car insurance, health insurance and possibly even dental insurance cards. Keep these copies in the same place you keep the other insurance documents described above.
Insurance is one of the few things we buy while hoping we'll never have to use. But when you or your family eventually does need to make a claim, the process will go much more smoothly if it's easy to find the underlying insurance documentation.
Tags: insurance advice, insurance documents, insurance policy