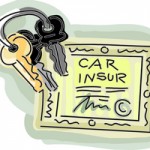 Getting a driver's license is an important milestone for any teenager. But it can be rather sad for the parents. It's yet another sign that your little boy or girl is growing up, and it's usually associated with a big increase in your auto insurance bill.
Statistics show that teenage drivers are much more likely to have accidents than drivers with more experience behind the wheel. That's why insurance companies charge higher premiums for young drivers. While there's no way to avoid your insurance going up when you add a teen driver, there are ways to minimize the damage.
Here's some insurance advice on how to save some money on auto insurance for your child.
Make changes to your collision and comprehensive coverage. Raising your deductibles can make a significant difference in your premiums without compromising too much in the way of coverage. If your teen has a minor fender bender, you'll probably come out ahead by paying for repairs out of pocket rather than filing a claim and having your premiums rise as a result. If there are no liens on the car your teen will be driving, you might be able to drop collision and comprehensive coverage altogether.
Go with safe and used rather than sporty and new. Your teen might beg for a stylish, sporty ride, but giving in will send your insurance premiums through the roof. Do some research and find a car with a good safety rating instead. And buying a certified used car instead of a new one will not only save you money up front, it will also result in lower insurance costs.
Send your teen to driving school. Most insurance companies offer a discount for drivers who complete a certified driver education program, defensive driving class or safety awareness program. Signing your teen up for such a class will save you money, and it will reinforce the importance of driving safely and responsibly.
Ask about good grade discounts. Some insurers have special discounts for students who make good grades. A "B" average or higher is usually required. These discounts could save you as much as 20% on auto insurance for your teenager, so they're well worth looking into.
Compare quotes. Parents often add their teens to their existing insurance policy without getting quotes from other companies. This may result in paying more for coverage than you have to. Even if your current insurer offers the best rates for you, they may charge more for adding a teenage driver than other companies. Get a quote from them, and compare it to quotes from other companies. You may find that you could save money by taking your business elsewhere.
Putting your teen on the road certainly isn't cheap. Fortunately, there are ways to cut the cost. By shopping around and making sure you get all the discounts for which you qualify, you could save big bucks on your insurance bill.
Tags: auto insurance, insurance advice, teen auto insurance