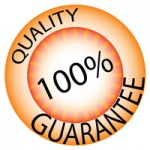 You've just bought a new car and now the dealer is offering you a whole bunch of additional options, one of them being buying an extended warranty for that brand new car. Know all the facts before you sign on the dotted line. Here is some advice about buying that new car extended warranty insurance.
There is one thing that you need to know about car dealers – they are out to make the sale. Yes, they want you to find the car that you want with them so that they can make money. This includes trying to offer you everything but the kitchen sink to go along with that car.
One of the questions you will be asked about when you hit the finance office is an extended warranty. Let's begin by talking about what a warranty is and how it can or cannot be useful.
A warranty is like a guarantee. It comes with everything from washing machines to curling irons. Basically, for a certain amount of time, if there are any problems with your purchased product, you can have it fixed or replaced.
Cars come with a warranty to. You've heard them: "5 years or 50,000 miles," "100,000 mile powertrain warranty." The engineering of cars has gotten a lot better, often negating the need for an extended warranty on a new car. Before you buy one here are come considerations:
Check out the warranty being offered on your car by the dealer. Most warranties cover the major parts of the car: powertrain and transmission, for example. For a car just off the showroom floor, there is less likely to be anything wrong with these parts for some time. If it is, it is likely to be covered by a recall and then it will be fixed for free.
Consider the type of car that you are purchasing. Most of us do our due diligence before going to the dealer anyway. For a car make that has a reliable track record, an extended warranty is not necessarily needed.
Read the wording of the extended warranty before you buy. Some warranties are only valid if repairs are performed at a certain shop. This won't work well if you are on vacation and in another state.
Also read about the deductible. You don't want to end up paying for your own repairs because the deductible is so high. What you ideally want is a warranty that states that you pay a deductible per visit and not per repair. Per repair means that you will be billed a deductible for every part they have to replace. Per visit means that they can totally overhaul the car and you will only be charged one time.
Do you need an extended warranty? On a new car it is unlikely. Unless you plan on keeping the car until the wheels fall off, you will still have enough of the original warranty when you sell it.
Tags: auto extended warranty, extended insurance, insurance advice