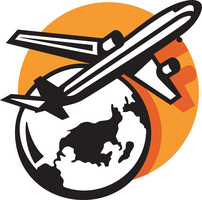 For most of us, our vacations are extremely important, almost sacred, occasions. Vacations let us reconnect with our spouses and families, and take a break from the many stresses in our day-to-day lives. To keep our vacation costs as low as possible, many people pay for them well in advance of the actual vacation. By doing this we can take advantage of lower advance purchase fares and special promotional offers from airlines and vacation companies. This is a great way to save money, but these deals are often non-refundable, so if you have to cancel your trip you could end up losing most or even all of the money that you paid. Here is some advice about purchasing vacation insurance.
For example, you might have to cancel your trip to Florida because of a hurricane or other bad weather event. Or you might have to cancel your ski trip to Utah because a family member breaks their leg the week before you're about to take the vacation. In order to protect against these types of financial loses, you can purchase vacation insurance for your trip.

Types of Benefits
A vacation insurance policy can be a low-cost way to protect yourself against losing all the money you've paid for a vacation, if you're later forced to cancel your vacation plans. Vacation insurance companies offer different types of coverage. A common benefit is to either cover a fixed amount of the cost of your vacation (generally starting at $1,000 or $1,500 coverage), or to cover any unused and non-refundable expenses that you lose if your trip is canceled.

What Triggers Benefits?
Most vacation insurance policies provide trip cancellation benefits if your trip is canceled because of the death of a traveling companion or family member, or an illness that prevents travel. Some policies also provide a payout for other reasons, including if your passports are stolen, if your home is destroyed by fire or flood just before your trip, or if your airline has problems that causes it to shut down flights for a certain period of time.
Costs
The cost of a vacation insurance policy will depend on the total cost of your vacation, how much of it you have to pay for in advance, and how much of your payments are nonrefundable. In general, you might expect to pay approximately $50 for every thousand dollars that your trip costs. Additional travelers can be covered by the same policy for less. The exact amount of the premium will depend on a number of different factors relating to your trip.
When to Purchase?
Most vacation insurance companies allow you to purchase a policy to cover your vacation at practically any time. Keep in mind, however, that the policy must be in place before any event that gives rise to a claim. For example, if a member of your family becomes ill a week or two before the beginning of your vacation and you have to cancel, you won't be able to buy a policy to cover your loss, because the cause of your cancellation has already occurred. In general, if you decide that vacation insurance is right for you, then you'll want to purchase it as soon as possible after you've paid for your trip.
Tags: insurance advice, vacation insurance