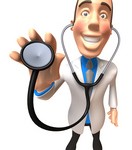 As 2010 winds to a close, it's getting to the time of year when most people make their selections for medical insurance coverage under their employer's group plan. In most companies, this is known as the "open enrollment" period.
Even though this can be one of the most important decisions you can make regarding your financial welfare (just consider how a single accident or serious illness could devastate your savings if you didn't have health insurance), some people tend to spend very little time researching or trying to fully understand the various options that are available, or trying to figure out what option is likely to be the best fit for their needs. Here is some advice on how to make your 2011 medical insurance choices.
With the recent passage of new health care laws, there are even more reasons to pay close attention to your health insurance options this year. First of all, hospitals and doctors are subject to new requirements themselves, so many health care providers are aggressively negotiating the fees they receive from health insurance companies. It's possible that the primary care physician you've been using is no longer available in your plan or network next year– so pay particular attention if you have a strong relationship with your doctor.
In addition, this coming year is likely to see more employers offering (and perhaps incentivizing their employees to elect) high deductible health care plans. These plans allow the insured person to open a health care savings account, and make several thousand dollars per year in tax-deductible deposits to this account.
The health savings account earns interest, and (unlike some prior health care related savings account vehicles) any unused amounts roll over to the next year. The insured can use the money from their account to pay for nearly any medical expenses, including policy co-payments, office visit charges, and fees for prescription drugs.
High deductible plans may become more popular in no small part because the portion of the health insurance premium that the employee will be required to pay is increasing.
Another big change in the coming year is that insurers must now allow parents to keep adult children covered by their health insurance policies up to age 26. For parents who have kids that graduating college but are unable to find jobs, this new provision may prove very popular. Keep in mind that if the adult child has health insurance available to him or her through an employer, then they currently cannot opt to be covered on a parent's policy (even if the parent's policy is less expensive or otherwise preferable).
Do not assume that what was covered in 2010 will be covered in 2011, even if you remain with the same coverage choice, so be sure to review carefully your annual enrollment choices.
Tags: 2011 medical choices, health insurance advice, insurance advice, medical insurance advice