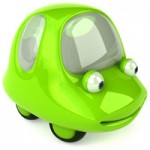 We love our children and want to give them the best. When they turn sixteen, the "best" to them is a driver's license and a car they can cruise around in. If you are in the market for car insurance for your teen, here is some advice on finding the most affordable auto insurance for them.
Just the thought of your teen behind the wheel of a car can send you scurrying for the bottle of antacid tablets. You dared drive with them and they have now earned their driver's license. So, it is time to find car insurance for them so that they can legally drive by themselves.
But, who is going to trust a teenager to drive? Many parents are afraid that their insurance premiums will go through the roof once they add their son or daughter. However, this doesn't have to be the outcome if you and your teen take the time to look for insurance and take advantage of programs that may be available from local companies. Here are some steps to follow:
Perform your due diligence – Contact other insurance agents to see what type of deal they will offer. Make some phone calls. After that, go to your own car insurance company. Ask about any programs that they have available for teen drivers. Your insurance company may be taking for granted that you will go with them, but others may offer better premiums for new customers. You may have to go with someone else or use a better deal elsewhere to get what you want from your existing car insurance agent.
New car discounts – You may be able to lower the cost of insurance for your teen with a new car. New cars have been inspected at the factory and also come with state-of-the art features like up-to-date safety measures including side impact airbags and anti-lock brakes. The safer your car is, the cheaper your insurance may be.
Discounts for good grades – Some insurance companies offer discounts for teens that are getting good grades in school. A responsible teen is seen as less of a risk when it comes to driving. This may be your saving grace with a male teen. Be aware that frequently boys are seen as more of a risk than girls and therefore incur higher premiums.
Multiple car discounts – With the prospect of more than one car being insured, your agent may sweeten the deal. Not just your car but a car for your teen is on the table now. It can't hurt to ask.
Are you looking to find affordable car insurance for your teen? It can be done if you take the time to shop around. However you should be open to find a new insurance company in order to keep your car insurance payment from going sky high.
Tags: auto insurance, insurance advice, teen auto insurance