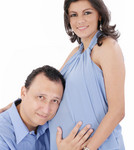 Having a child represents a significant change to your life in many different ways. You probably anticipate and understand that your life will have a different focus once you're a parent, though perhaps the full extent of the change can be hard to understand if this is your first child.
And chances are you'll also be making plans to address the financial changes that having a child will bring. One sometimes overlooked financial aspect of these changes is your insurance.
In most cases there are at least five basic types of insurance changes you want to consider when you're getting ready to have a baby.
Health Insurance. There are really two ways that you want to review and update your health insurance policy when you're getting ready to have a baby. The first, of course, is to ensure that your policy contains adequate coverage for the expectant mother. Some types of coverage are required by law to be in every health insurance policy, but there can be a broad range in how much optional coverage different policies have.
The second update to consider is verifying that your policy will cover your new child. If you get coverage through your employer, be in contact with your benefits representative to make sure that your child is added immediately upon birth.
Life Insurance. Before the child is born, you want to make sure your life insurance policy contains adequate coverage both for your self and for your spouse. The cost of raising a child is very high, so if one or both of the parents were to pass away, you want to be confident that there are adequate resources available for raising your child.
Supplemental Insurance. Regardless of whether one or both parents are going to be the breadwinners for the family and the new child, their income is now particularly important. A supplemental insurance policy can provide an extra measure of financial protection if illness or injury causes either earning parent to miss time at work.
Homeowners Insurance. Do you plan to make any changes or additions to your home when the new baby arrives? Perhaps a new nursery or other expansion? Doing so will likely trigger a need for a review and appropriate upgrade of your homeowners insurance policy.
Car Insurance. Similarly, consider whether you will buy a new car or minivan in order to transport your new child safety. Doing so will mean new insurance for that car. Do your research and decide whether taking your insurance business to a new provider can save you money.
To be sure, there are a number of other financial changes you'll need to make as well. For example, you may wish to update your will, as well as the beneficiary designations in your retirement and investment accounts. But don't overlook the important changes you'll want to make to your insurance policies.
Tags: having a baby, insurance advice